Food insecurity – the inadequate or insecure access to food due to financial constraints – is a serious public health problem in Canada. It negatively impacts physical, mental, and social health, and costs our healthcare system considerably.
How big is the problem?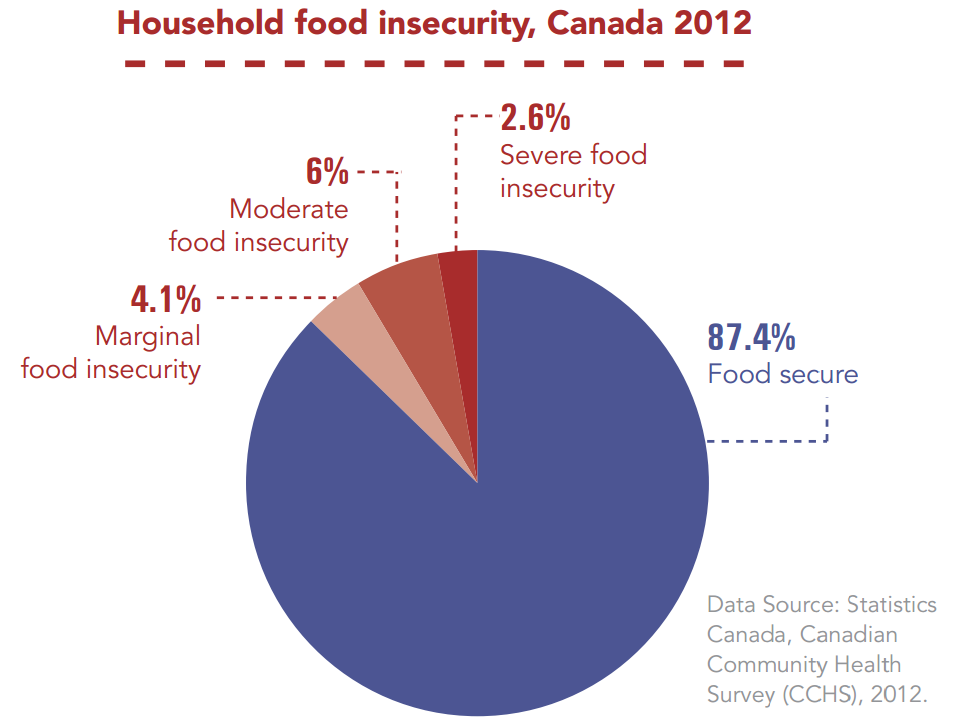 Although food bank statistics are commonly cited as an indicator of the prevalence of food insecurity in Canada, this seriously underestimates the problem. Research indicates that less than one-quarter of food-insecure households make use of food banks [1].
Since 2005, household food insecurity has been measured on the Canadian Community Health Survey. According to the most recent national estimate in 2012, 12.7% of Canadian households experienced some food insecurity; this increased from 11.3% in 2007-08 [2,3].
There are three categories of household food insecurity:
Households experiencing marginal food insecurity reported one food-insecure condition.
Households experiencing moderate food insecurity reported compromise in quality and/or quantity food consumed among adults and/or children.
Households experiencing severe food insecurity reported reduced food intake and disrupted eating patterns among adults and/or children.
Who is affected?
Food insecurity affects both adults and children.
It is closely linked to household income; the lower the household income, the higher the risk of food insecurity.
The source of income is also important. Households that receive social assistance have a much higher risk of food insecurity. Over half of these households were food insecure in 2012, suggesting that these programs are not designed in ways that enable many recipients to meet their basic household needs.
Single mothers, households renting their accommodation, and Aboriginal groups are also more likely to be food insecure.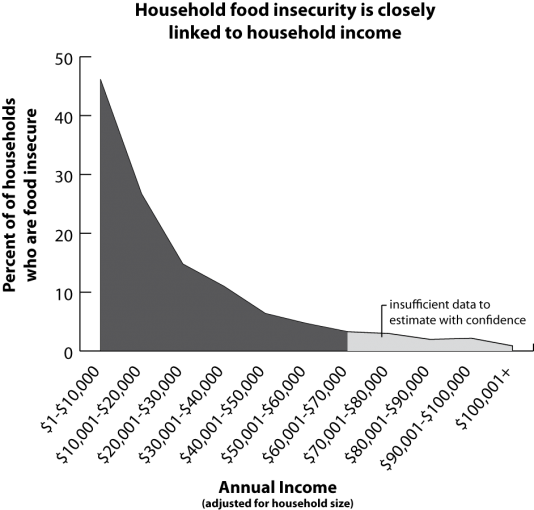 (figure source [3])
What are the implications for nutrition and health?
Household food insecurity affects food intake, and it may prevent an individual from consuming enough of the right kinds of nutrients to support and maintain health. Adults and adolescents in food-insecure households in Canada have lower intakes of milk products, fruits and vegetables; and are at an increased risk of inadequate nutrient intakes [4]. However, there is little evidence of dietary inadequacies among Canadian children, even if food insecure [4].
Poverty and household food insecurity can separately lead to poorer health. Food-insecure adults report poor health, including mental, physical and oral health, and chronic conditions such as diabetes, heart disease, hypertension, depression, and fibromyalgia [5-10]. Household food insecurity also affects people's ability to manage chronic health problems. As a result, food insecurity takes a significant toll on the healthcare system with costs considerably greater for food insecure households [11].
Children who experience hunger are more likely to have poorer health. Multiple episodes of hunger among children over time are associated with higher odds of chronic conditions and asthma [12].
How is food insecurity currently addressed in Canada?
Many individuals and organizations in Canada are concerned about hunger. Unlike the US where there are federal programs targeting food insecurity, in Canada there are no coordinated government policies or programs designed to directly address the problem. Canadian social policies such as employment insurance, social assistance, subsidized housing, and child benefits can help those who are food insecure, but these policies are not designed to explicitly deal with hunger and they are not evaluated in terms of their effects on food insecurity.
Food insecurity in Canada recently received international attention, with an official visit by the United Nations Special Rapporteur on the right to food in May 2012. The Special Rapporteur examined Canada's approach to upholding the human right to adequate food and was alarmed by the high rates and severity of household food insecurity and the lack of a national food strategy designed to uphold this right. (See the official statement here.)
In the absence of dedicated social policies to ensure adequate household income for food, a variety of extra governmental, community-based and charitable responses to problems of food insecurity have emerged:
Food banks
Food banks or hampers are the most visible and well-known response to hunger or food insecurity in Canada. However, a recent study of low-income families in Toronto found that less than one-quarter of food-insecure families used food banks, and when food banks were used, they were unable to protect people from ongoing food insecurity [1]. The stigma associated with reliance on food banks is also well documented.
Meal/Snack programs
In addition to food banks, some communities offer charitable meals/snacks targeted at poor individuals, for example, those who are homeless or socially isolated. As is the case with food banks, however, these programs cannot protect people from continued food insecurity.
Community Development programs
Other local programs aim to increase access to nutritious foods among low-income communities. Community kitchens, community gardens, farmers' markets, and 'good food boxes,' for example, use community development principles and attempt to improve factors such as geographic access to healthy food, a situation that can worsen the effects of household food insecurity. Yet participation rates in these programs by food-insecure individuals are low [1]. Also, these programs cannot, by design, increase people's income or purchasing power, which is still needed to access food in our society.
Federal and provincial initiatives
Federal and provincial governments do offer some programs for nutrition support to vulnerable groups, such as pregnant women and young children, for example, through Canada's Prenatal Nutrition Program. Sometimes these are considered initiatives to reduce food insecurity.  They have not been able to reduce household food insecurity rates, however.  Other initiatives such as child poverty reduction strategies and employment programs might have an effect on food insecurity, but this is unknown.
Many food security advocates in Canada have supported the development of a national policy for child nutrition or a national school lunch program. A number of school-based breakfast, lunch and snack programs operate in most provinces and territories, but it is unclear whether they can have a large enough impact to reduce household food insecurity – and food insecurity rates continue to rise.  However, some research indicates that school food supplementation moderates the association that is found between adolescents in food-insecure households and scholastic difficulties [13].
Conclusion
Household food insecurity is a serious and growing problem in Canada that requires dedicated and effective policy solutions to ensure adequate household income for food.  Our research will work towards identifying some of those promising solutions.
References
[1] Kirkpatrick SI, Tarasuk V. Food insecurity and participation in community food programs among low-income Toronto families. Canadian Journal of Public Health. 2009 Mar-Apr;100(2):135-9. [Abstract] [Full Free Text]
[2] Unpublished analysis of 2007-2008 Canadian Community Health Survey data.
[3] Unpublished analysis of 2011 Canadian Community Health Survey data.
[4] Kirkpatrick S, Tarasuk V. Food Insecurity Is Associated with Nutrient Inadequacies among Canadian Adults and Adolescents. Journal of Nutrition. 2008; 138: 604–612. [Abstract] [Free Full Text]
[5] Che J, Chen J. Food insecurity in Canadian households. Health Rep. 2001; 12(4):11-22. [Abstract] [Free Full Text]
[6] Fuller-Thomson E, Nimigon-Young J, Brennenstuhl S. Individuals with fibromyalgia and depression: findings from a nationally representative Canadian survey. Rheumatology International 2012; 32(4):853-62. [Abstract]
[7] Gucciardi E, Vogt JA, DeMelo M, Stewart DE. Exploration of the relationship between household food insecurity and diabetes in Canada. Diabetes Care 2009; 32(12):2218-24. [Abstract]
[8] Muirhead V, Quiñonez C, Figueiredo R, Locker D. Oral health disparities and food insecurity in working poor Canadians. Community Dentistry and Oral Epidemiology 2009; 37(4):294-304. [Abstract]
[9] Vozoris NT, Tarasuk VS. Household food insufficiency is associated with poorer health. Journal of Nutrition. 2003 Jan;133(1):120-6. [Abstract] [Free Full Text]
[10] Willows N, Veugelers P, Raine K, Kuhle S. Associations between household food insecurity and health outcomes in the Aboriginal population (excluding reserves). Health Reports 2011; 22(2): 1-6. [Abstract] [Free Full Text]
[11] Tarasuk, V., Cheng, J., de Oliveira, C., Dachner, N., Gundersen, C., & Kurdyak, P. (2015). Association between household food insecurity and annual health care costs. Canadian Medical Association Journal, 187(14), E429-E436.[Abstract] [Free Full Text]
[12] Kirkpatrick SI, McIntyre L, Potestio ML. Child hunger and long-term adverse consequences for health. Archives of Pediatrics & Adolescent Medicine 2010; 164(8):754-762. [Abstract] [Free Full Text]
[13] Roustit C, Hamelin AM, Grillo F, Martin J, Chauvin P. Food insecurity: could school food supplementation help break cycles of intergenerational transmission of social inequalities? Pediatrics 2010; 126(6):1174-81. [Abstract] [Free Full Text]